FAQ: What is a Base and Why do Commercial Washers need one?
Have you ever heard of a commercial washer base? Don't worry if you don't. You are not alone yourself. This is a critical component of your total commercial washing machine, although it is sometimes overlooked. Let's get a better look!
Washers without bases are usually attached to the floor over the drain. Unfortunately, without a base, the washer may be uneven and not level with the floor. It has the ability to cause the washing machine to vibrate, and you will be able to both see it and hear it shaking.
What is a base?
A base can be placed on the bottom to minimize shaky, uneven, and vibrating washers. This not only keeps the machine steady but also improves drainage. When there is no foundation for the washer, the bottom of the unit is right over the drain, leaving limited room for adequate drainage. The foundation elevates the device over the drain, allowing it to drain water more effectively. Aside from improved drainage, having a platform makes it much easier to install the machine. When installing units, there is no need to be concerned about uneven floors.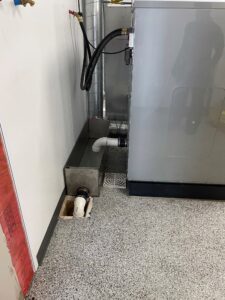 Importance of a Base
The most important function of a base is to provide space for piping underneath the washer. A "gravity drain" is used in commercial washers. Your home washer, on the other hand, pushes the drain water up to around waist height on the wall. Water exits a commercial washer at the back of the machine, generally through a 3" tail pipe that is barely an inch or two from the machine's bottom. This drain water can be discharged into an open drain trough or hard-piped into a sewer drain. When you elevate the machine off the concrete floor, you provide more space to run a drain pipe. Most washer bases are six to eight inches of a steel frame. They are built to help washers bolt well into the floor and through concrete.
Affordable commercial laundry equipment in South Texas
When you work with Skyline Equipment, you'll discover that we always provide the best equipment for your on-premise or vended laundries. You'll never have to doubt if you're getting the best equipment and service for your money. If you'd like to learn more about bases for your on-premise or vended commercial washers, please contact us. e have the best team in South Texas to assist get getting your machines set up correctly.
Do you need assistance with the planning or design of your new construction laundry or laundromat? In search of the best coin-operated washers and dryers in South Texas? Skyline Equipment is a recognized commercial laundry distributor in the area; we are experienced developers of successful vended laundries, outfitted with energy-efficient equipment and specialized services to attract a wide array of customers.
When you combine this with our location finding aid and demographic analysis for the area, you'll discover that we go above and beyond to ensure that your business opens as smoothly as possible. Additionally, we make an effort to evaluate the competitors, including their equipment and location. We want to make your life easier. Contact us for additional information or if you have any concerns regarding our in-house financing.